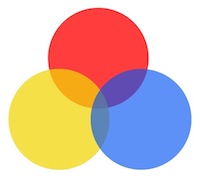 Gig – Band On The Wall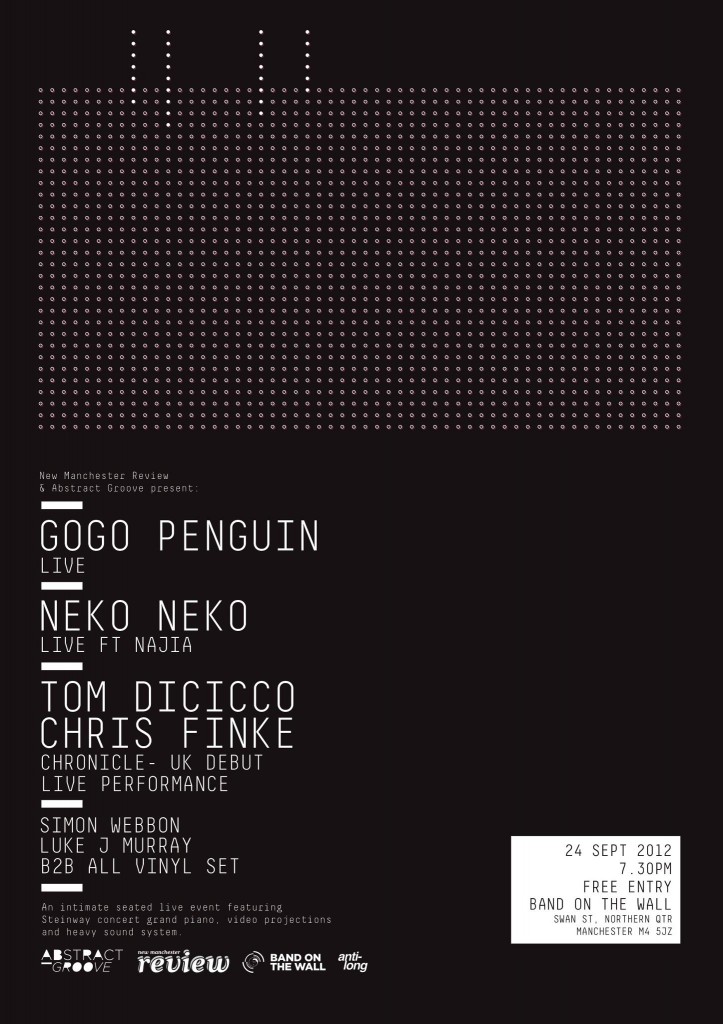 Very excited to be playing a set at Band on the wall, amazing venue & amazing sound system. Monday, 24 September 2012
——————————————————————————————–
New Manchester Review and Abstract Groove present a unique and immersive audio visual presentation of contemporary experimental and electronic music, utilising a Steinway concert grand piano, Band on the Wall's famously deep sound system and full live video projection facilities.
Gogo Penguin [live]
—-
Classically trained Chris Illingworth (piano), Grant Russell (double bass) and Rob Turner (drums) met whilst studying at the RNCM and it is from this foundation that Gogo Penguin was born. Gogo Penguin are one of the most exciting contempory instrumental groups working today, and during their relatively short career they have already drawn comparisons to the likes of E.S.T, Radiohead and Massive Attack. They have performed alongside living legends such as Jon Thorne (Lamb), Luke Flowers (The Cinematic Orchestra), Polar Bear and Acoustic Ladyland. They will be performing tonight on a full Steinway concert grand piano, double bass and drums.
Neko Neko ft. Najia [live]
—-
Neko Neko is Manchester based electronic artist Graham Shortland. His multi layed approach to electronic composition takes influences from hip hop, early [proper] dubstep, techno and IDM. He has been compared to the likes of Four Tet, Aphex Twin, James Blake, Flying Lotus and Caribou. Tonight's live performance will feature live vocals from acclaimed soul singer Najia.
Chronicle [Tom Dicicco & Chris Finke – UK exclusive live debut]
—-
Tom Dicicco is one of the most exciting young electronic producers and DJs working today. The prolific young Manchester based artist is one of the brains behind the internationally recognised Inner Surface Music label, and alongside contemporaries and labelmates AnD, is consistently putting out some of the finest dub techno productions in the world, taking over where the likes of the Sandwell District label and collective left off. Tom Dicicco has gained recognition from the most well respected institutions and selectors in the world, which has lead to a number of critically acclaimed sets, including a performance at Berlin's legendary Berghain club.
Chris Finke, resident at the seminal Atomic Jam and signed to Luke Slater's hugely influential Mote Evolver label is a techno DJ with a unique outlook, bringing in influences from outside the usual monochromatic spectrum that is usually associated with the genre. An artist whose diverse knowledge of music across platforms has gained him a reputation as one of the fiercest selectors in the modern underground dance music scene.
Tonight sees Tom and Chris perform a full UK exclusive live performance of their brand new Chronicle project – a more stripped down, ambient and darkly atmospheric set of material, performed live. The performance will take you on a journey through the darkest corners of pulsating electronica and ambient techno and will feature a series of visual projections created by the artists themselves. This will be the first time he has performed this material in the UK.