MFM009 – Trouble in the streets x Ya playin 12″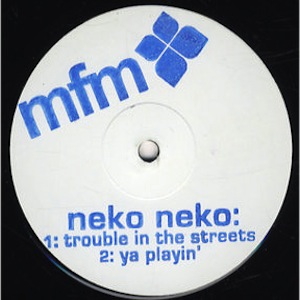 Label – My First Moth
Released – January 2012
Format – One sided 12″ & digital download
Tracklist
1. Trouble in the streets
2. Ya playin
MFM009 – Trouble in the streets / Playin ya self is Neko Neko's latest release on My First Moth records and is available from all good record shops and online today! Limited edition hand stamped, one sided 12″. Buy 12″
"Neko Neko takes time out from recording his debut album (due for release in 2012) to drop two very different reworks for your record box.
On "Trouble in the Streets" he expertly revisits a jazzy house groover (St Germain's "Rose Rouge"), shifting it up a few gears further into proper dance floor territory with heavy drums, percussion and adding catchy-as-hell vocal chant (lifted from an early 80s Lijadu Sisters African LP?)!
On the flip Neko Neko's MPC gets possessed by the spirit of circa 1993 boom bap as he remixes Jeru The Damaja's anti-playa anthem. Honky-tonk pianos, horns and boom bap drums all make for a worthy update of this stone cold classic!"
Reviews
Read a review

"I love the Jeru remix on the b-side"
DJ Format
"Ya Playin is ill yooooooo !!! Gonna rinse that one!"
Simbad – Brownswood
"Nice stuff, especially Trouble In the Streets will go down well in the clubs"
Mad Mats – Raw Fusion
Sold Out
The first batch sold out in a week. The second batch have gone out and sold out in most places. Google to find a copy.
Digital release available exclusively via Juno.