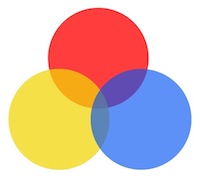 Mind on fire website launch gig & new song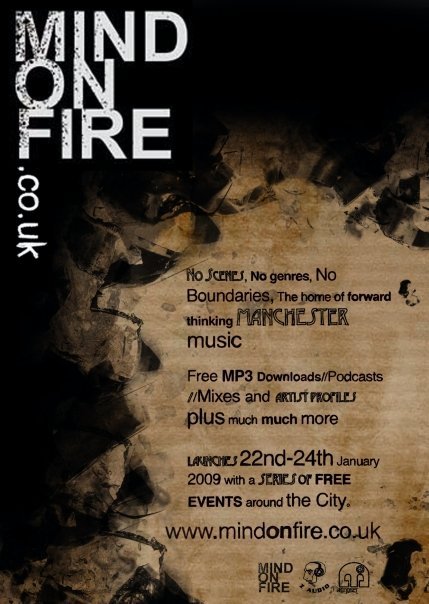 Hope everyones cool and not frozen to death in the cold. O yea happy late new year.
I bring good news for all you socialable people out there. I will be playing a gig on the 22nd of january @ the deaf instsitute in Manchester to celebrate the launch of the mind on fire website.
Everyone that can get down should as it will be a belter, big crowd, great soundsystem, live visuals, live art, wicked other bands playin & crackin venue. Break your new years resolutions & have some fun.
Better tell you lot that i uploaded a new song from My favourite sound is orange, my album that never will be! or will it? fuck knows, lets see what this year holds.
Heres the line up & facebook speal
Come the end of January Mind On Fire will be running a string of 3 FREE events celebrate the launch of www.mindonfire.co.uk, the home of forward thinking Mancunian music.
So what is the idea behind the site?
Well in keeping with everything we at MindOnFire have been doing since our inception the site aims to bring inventive and often overlooked Mancunian music to a wider audience (this time that audience is a worldwide one).
It is about pride in a city full of diverse and inspiring talent and most importantly about a love of music that no matter how hard you try you just can't shake.
The site will feature tracks from a wide variety of Mancunian musicians and producers, all available to download for FREE. If you don't want to download them you can simply add them to a playlist which will stay open as you browse the interweb during your daily worldwide escapades. At MindOnFire we don't like to be restrained by genre so artists we feature could stylisticly be anything from Hip Hop to Alt. Rock, Jazz and Funk to Electronica. Genre is of no importance, but the quality is consistent.
———————————————————————
Thursday 22nd January @ Deaf Institute
Live Acts:
MAKING FACES + GO LEBANON (joint set)
http://www.myspace.com/makingfaces1
http://www.myspace.com/golebanon
Joint set from two of the collective's bands
NEKO NEKO
http://www.myspace.com/anniseed
Live band electronica from Neko Neko
THE NATURAL CURRICULUM and friends
http://www.myspace.com/naturalcurriculum
Party Hip-Hop featuring 3 emcees 1 beatboxer and 1 dj from TNC, who will be joined by members of MCR Hip-Hop groups Atrial Phoniks and Herrotics on the night.
+ MOF Djs
First 200 people in get a free Cd and visuals as always will be handled by the superb Cycloptic. Sketch City will also be providing live art on the night
Friday 23rd January @ Ram and Shackle
Friday night will be spent in Fallowfield's favourite student boozer The Ram and Shackle. As well as a selection of Mind On Fire Djs we will be hosting a showcase of Djs from Manchester's very own MINDSET RECORDINGS http://www.myspace.com/mindsetlabel who are becoming known for releasing atmospheric variants of dub step and techno. The night coincides with the relesase of Mindset 003 so get down to hear music from the crates of Mind On Fire and Mindset. Expect a bit of everything music wise.
MINDSET DJs:
INDIGO
SYNKRO
BIOME
XXXY
MELATONIN
Mindset emerges from the depths of the musical spectrum to bring deep, spacious, atmospheric, bass driven music. Melting genres between electronica, dubstep and techno with each artist armed with a sonic arsenal of dubs that you will hear no where else.
Now on the 3rd release, following from the success of the first two releases by Indigo and Narcossist.
Mindset is ever expanding and drives the path into the future.
MIND ON FIRE DJs
+ more
Saturday 24th January @ The Nook
The closing event of the launch weekend will be in the lovely surroundings of The Nook in Chorlton, a more chilled out afternoon and evening affair with live acoustic and laptop sets from local favourites and MindonFire regulars, as well as DJs from the collective.
DENIS JONES
http://www.myspace.com/denisjones
LA77
http://www.myspace.com/la77
KANE TESTRACK
http://www.myspace.com/kane_testrack
+ more
———————————————————————–
As well as all of this we are running a series of 3 nights at The Deaf Institute on the First Thursdays of February, April and June featuring live electronica from acts such as LUKID, KELPE and LONE with support on the night coming from some of the leading lights of Manchester electronica. From January we will also be running DJ sessions at Fuel in Withington on the last Thursday of every month and one off parties around the city.
http://www.thedeafinstitute.co.uk
http://www.myspace.com/lukid
http://www.myspace.com/kelpemusic
http://www.myspace.com/lonemusic
http://www.myspace.com/sirconical
http://www.myspace.com/indigodub